Pierre Dunoyer: A Retrospective in 14 Paintings
1st December 2022 – 13 March 2023
Musée d'Art Moderne, Paris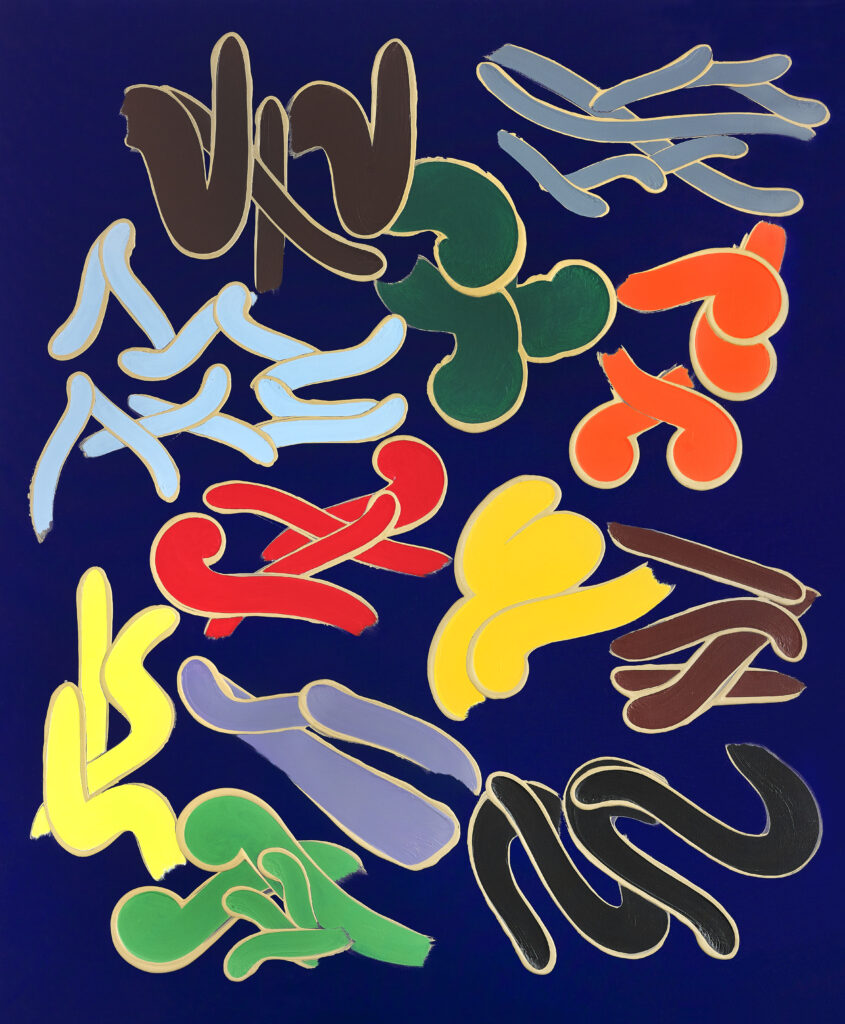 In the summer of 2022, I was delighted to be invited to co-curate a landmark retrospective of the painter Pierre Dunoyer (b.1949) at the Musée d'Art Moderne de Paris. The exhibition opened to public on the 1st of December and will remain on show until the 13th of March. 'Retrospective in 14 Tableaux' is a rare and unprecedented showing of work and the first solo exhibition in more than three decades by a French museum. Organised chronologically and covering all phases of the artist's career, the show brings together a suite of large-scale paintings executed by Dunoyer between 1978-2022.
The exhibition begins at the end of the 70s with works that evidence a formalist influence before moving to a key turning point in the 80s when artist lived in New York. Geometric pattern gradually begins to disappear from Dunoyer's work revealing the vitality of the monochromatic background as gestural marks acquire importance and increasing prominence. In 1987, Dunoyer returned to Paris and in the ensuing decades, his work would develop greater vigour in gesture and a chromatic luminosity revealing simultaneously energy, control and balance. In recent years, unseen paintings on view refine and further encapsulate his life-long, intellectual engagement with abstractionism drawing uniquely on his concept of the 'tableau".
The retrospective of Ad Reinhard, Barnett Newman and Jackson Pollock in the 70's certified his desire to devote his life to making paintings, and in the mid 1970s, the artist emerged choosing, as he declared then, to "paint as though in a tableau". Since then, he has drawn a distinction between tableau and painting: tableau is the culmination of painting – which queries elements of abstraction but examines collective and universal concerns.
By the late 1970s, Dunoyer belonged to a short-lived but influential coterie of artists dubbed Ja-na-pa (along with the painters Christian Bonnefoi and Antonio Semeraro and the sculptors Jean-Luc Vilmouth and Côme Mosta-Heirt). Unlike Support-Surfaces (a French avant-garde modernist group of the 20th century) the movement which viewed painting as an object of knowledge or learning (objet de connaissance) for analysis or deconstruction, Pierre Dunoyer considered it an object of thought (objet de pensée). The intellectual vigour informing his work is no doubt owed to his studies of the prominent thinkers of yesteryear, in particular Martin Heidegger.
As an admirer of Philippe de Champaigne and Édouard Manet, in whose work he feels a presence beyond the figurative representation. Dunoyer very much belongs to the French aesthetic tradition.
In 1991, his work came to wider public attention in an exhibition at the Jeu de Paume in Paris organised by its then director Alfred Pacquement, in the same year, Dunoyer offered an ontological conception of his work in which "an analogy exists between Being and the tableau: just as Being is no single instance of being, so the tableau must be nothing determinate above and beyond its presence. In respect to Being, the tableau is a pure indeterminate presence, 'a privileged beingness which…articulate being as different from the totality of all being'."
The exhibition's co-curator Benjamin Couilleaux says: "His approach, admirable in its freedom and ambition, aims to release the painting from any contingency other than its existence. There is no message or symbol, only an asserted presence as an artistic object. Both a little and a lot; few artists can create so coherent and powerful a language with such simplicity."
The exhibition will also be accompanied by the publication of a catalogue.
Curators: Benjamin Couilleaux, Chief Heritage Curator, Doctor of Art History and Director of the Boulogne-Billancourt Museum, and Carrie Cunningham Director at Allegory Art Advisory, London.
---
About the Retrospective at the Musée d'Art Moderne de Paris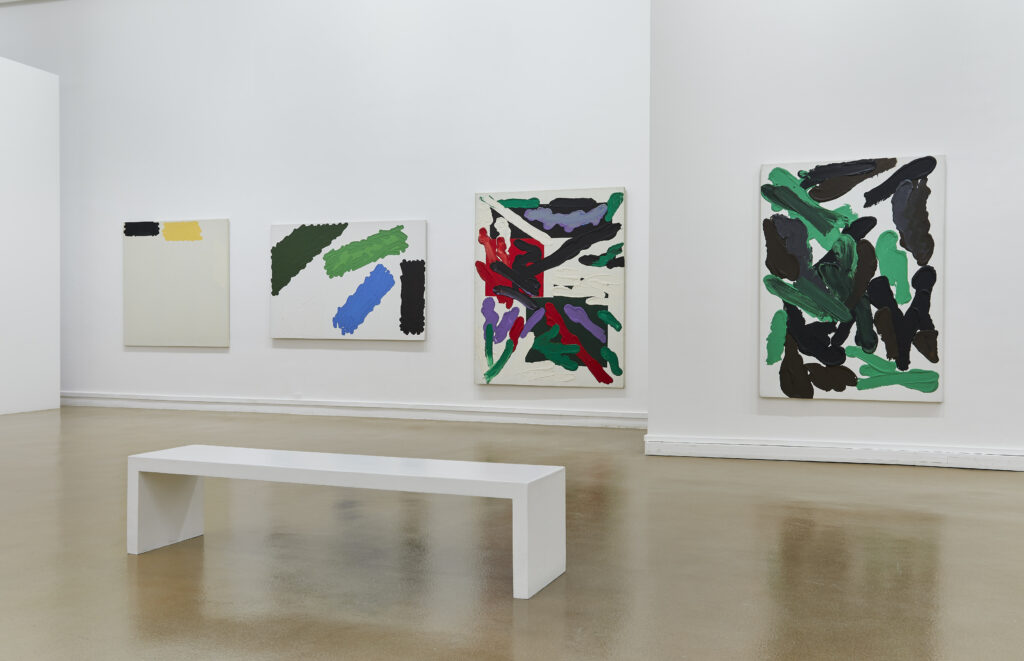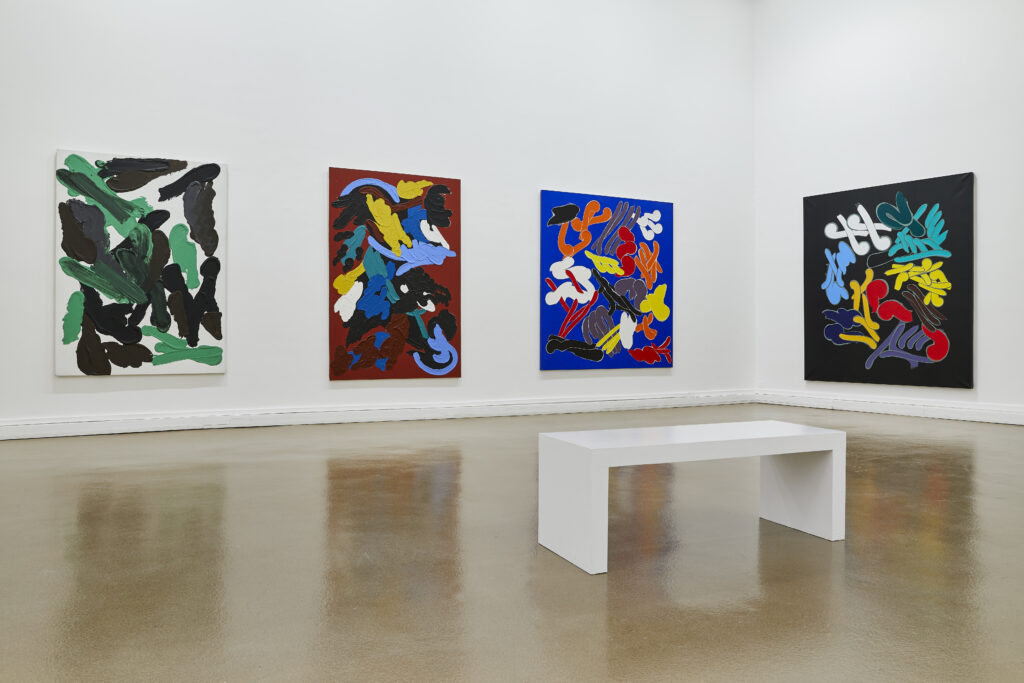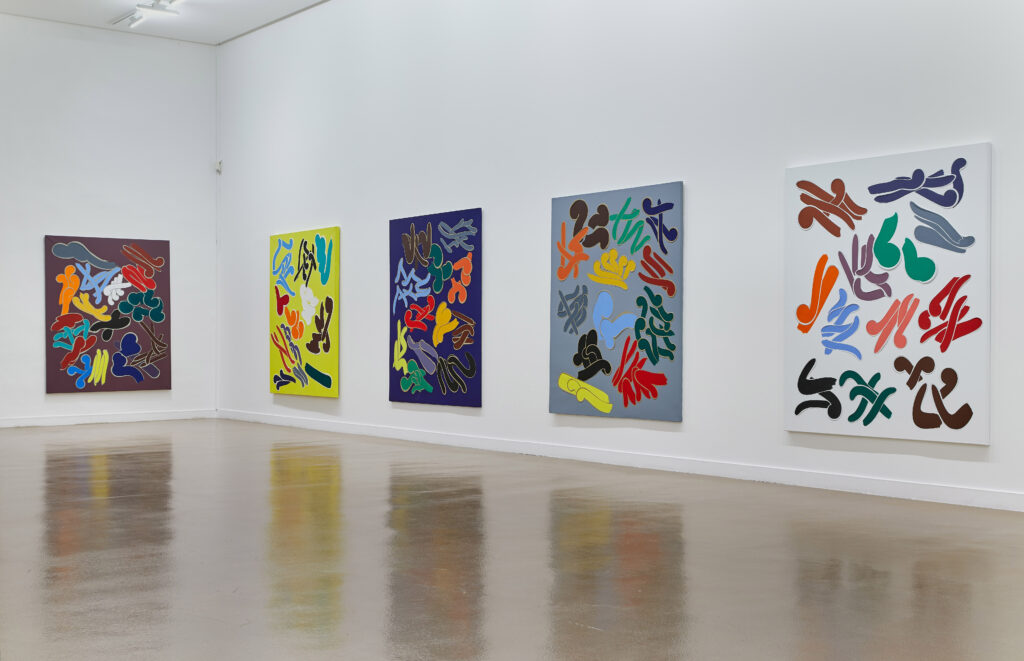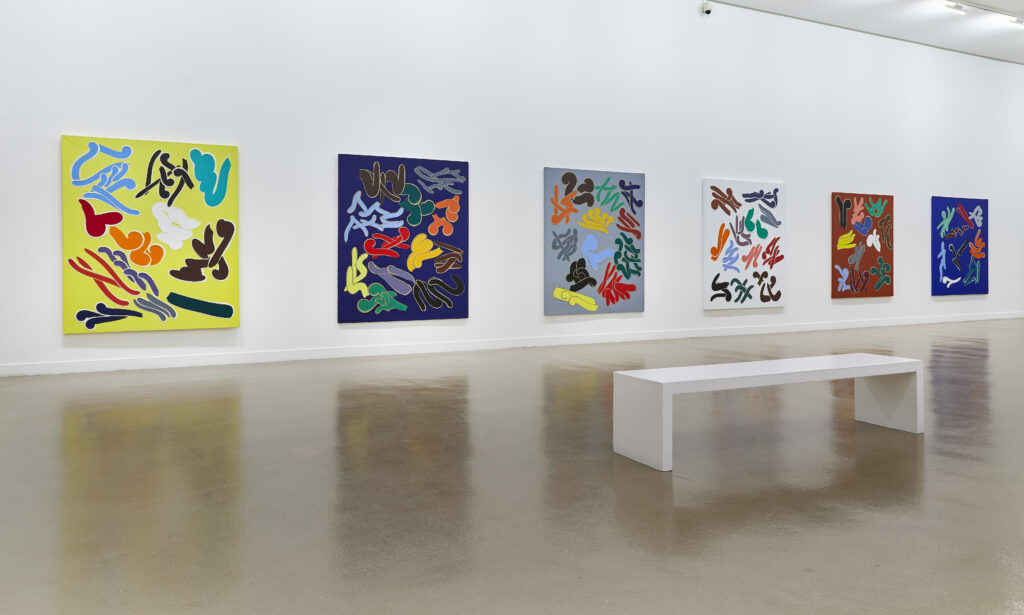 ---
Pierre Dunoyer in conversation with Fabrice Hergott
at the Musee d'Art Moderne, Paris
Saturday 4th February
Artist Talk: Room 15 at 3pm
Catalogue Signing: Library at 4pm
Pierre Dunoyer Retrospective, Paris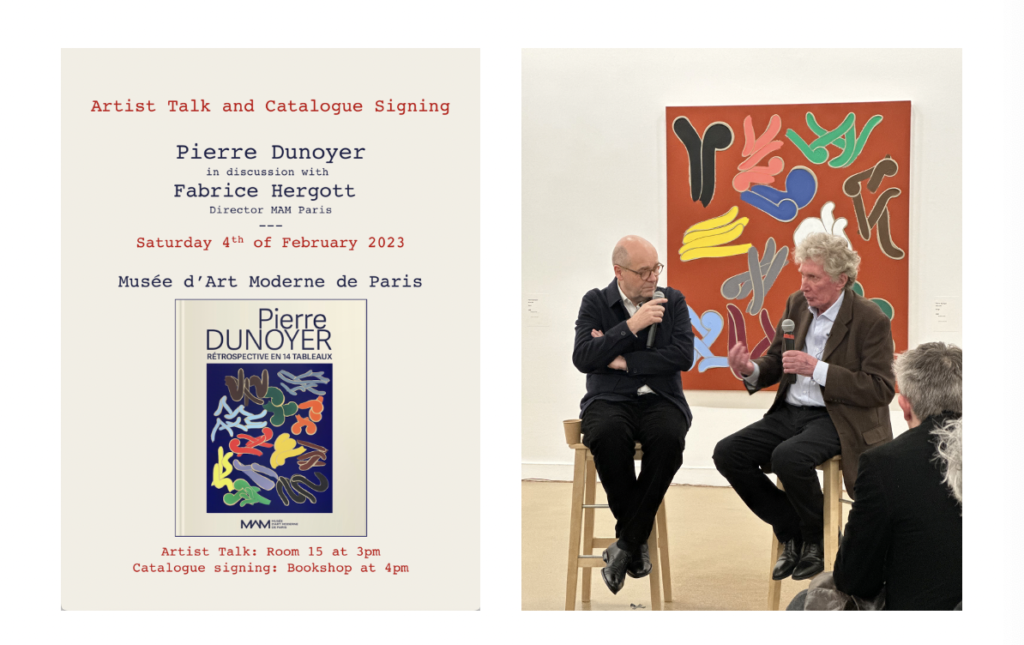 ---
Vernissage at the Musée d'Art Moderne de Paris, 1st December 2022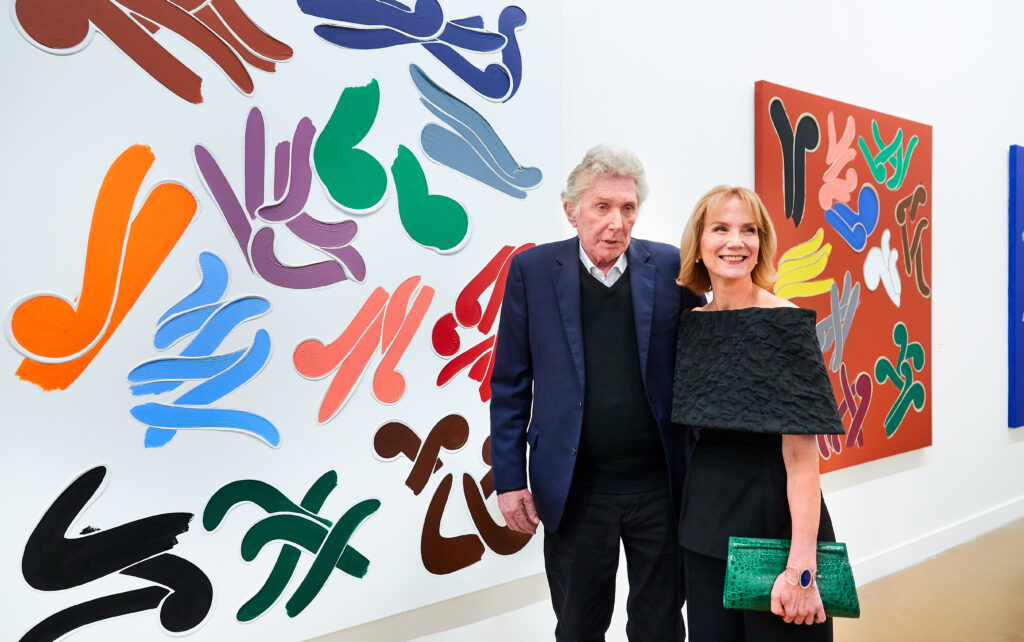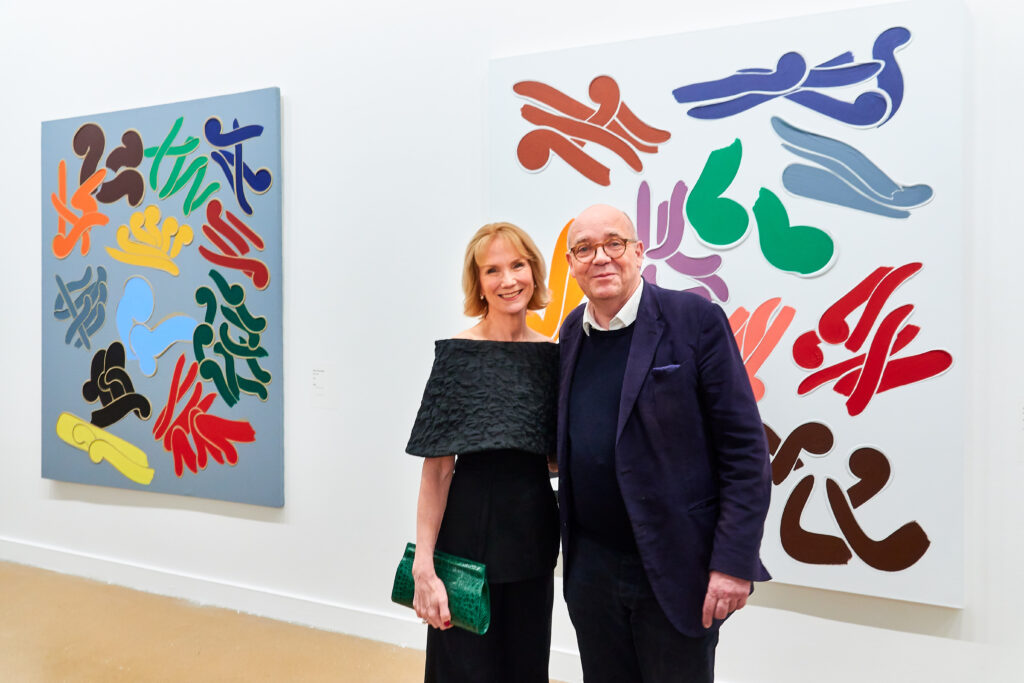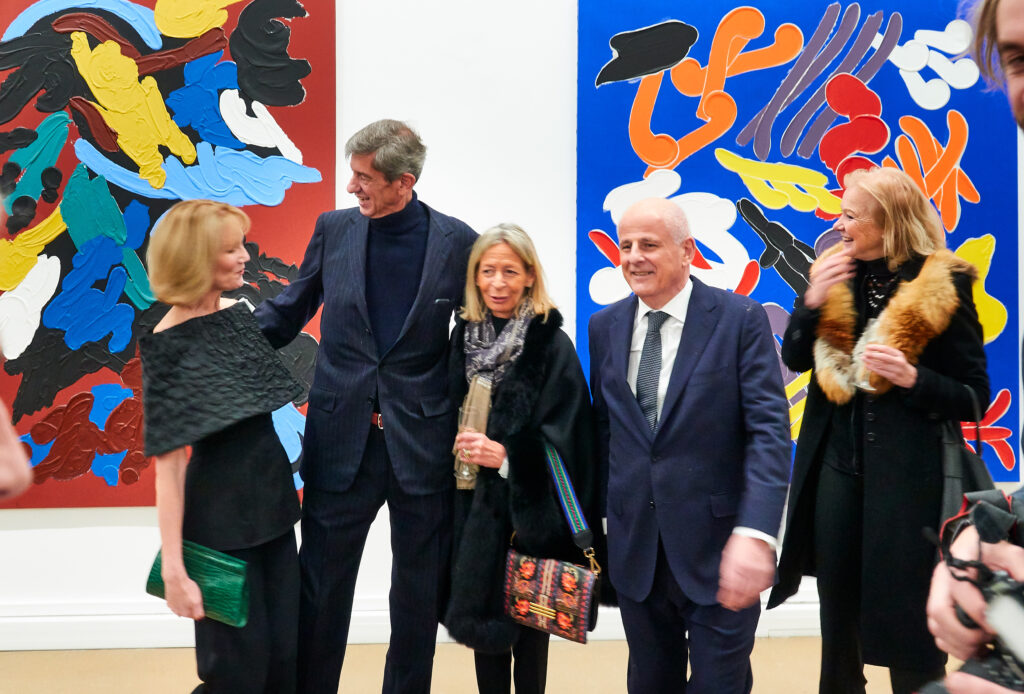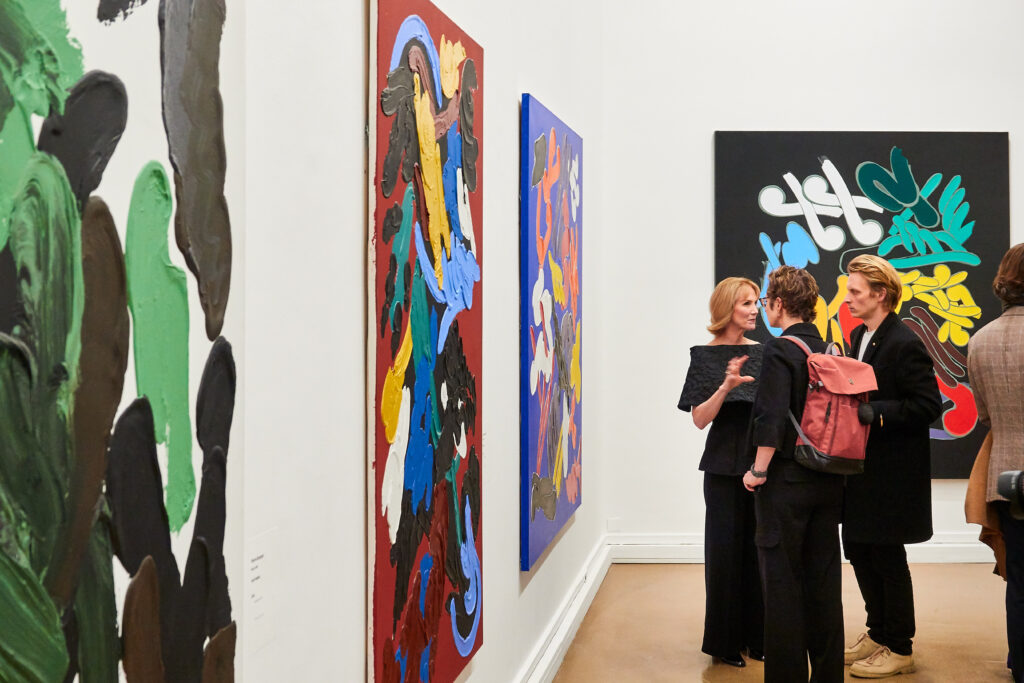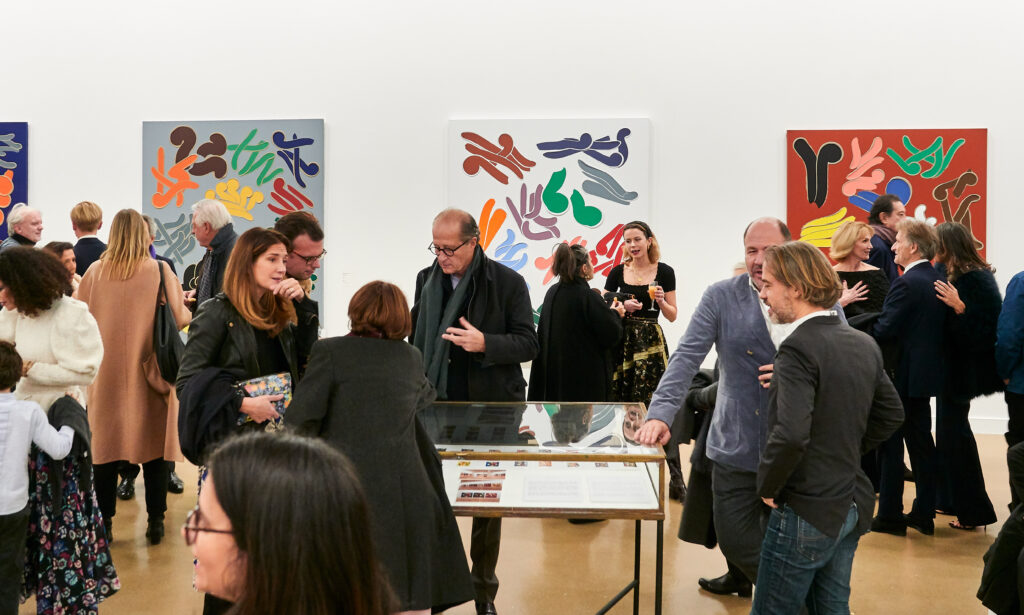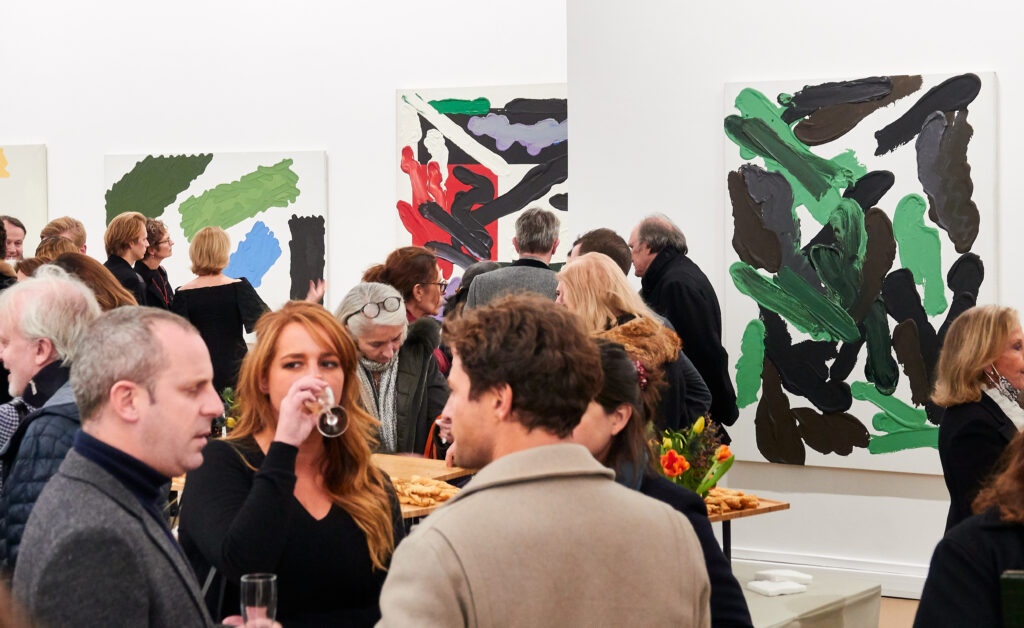 ---
Collect Art Fair
The Leading International Fair For Contemporary Craft & Design
25th – 27th February 2022 (Previews 23rd – 24th February)
Somerset House, London
Somerset House welcomes the return of Collect, the most influential fair in defining and growing the market for contemporary craft over the last 18 years.
Galleries from the UK and around the world represent some of the most exciting artists working today, from the emerging to the iconic. Most of the work has been made in the last five years, with many artists creating new work for the fair. All disciplines and materials are represented from tapestry to neon, goldsmithing to lacquerware, and glass and ceramics to fibre art.
Showcasing new work by hundreds of the most collectable artists working today means Collect provides a unique opportunity for collectors and craft enthusiasts alike.
I am delighted to have been asked to offer VIP tours of Collect 22 Art Fair at Somerset House on the 23rd and 24th of February.
Following the VIP tours, I will be giving private tours of the show on Friday the 25th and Saturday the 26th of February.
Please email me on [email protected] in order to book a time. I look forward to seeing you at this wonderful show.
Carrie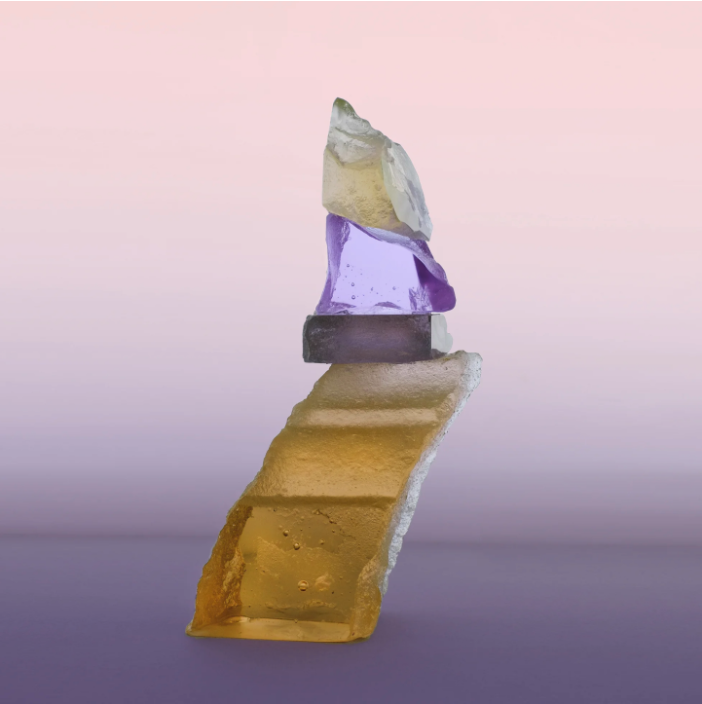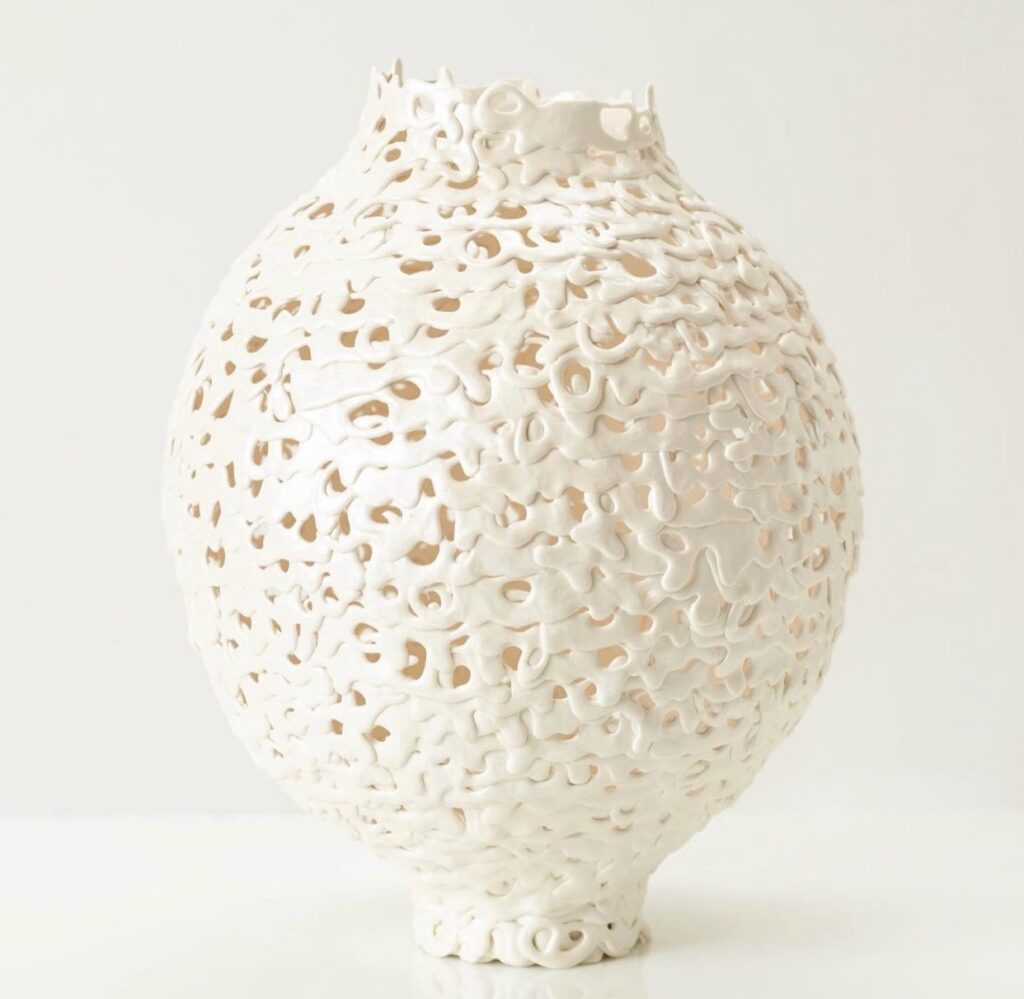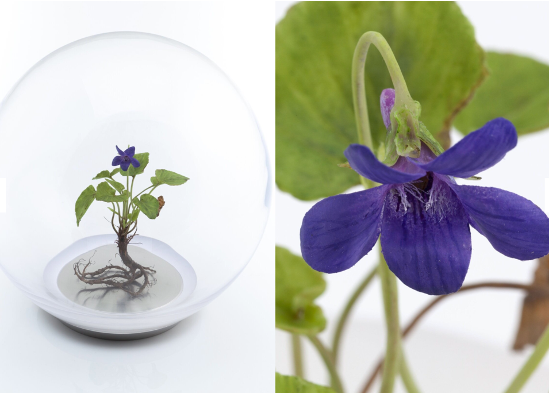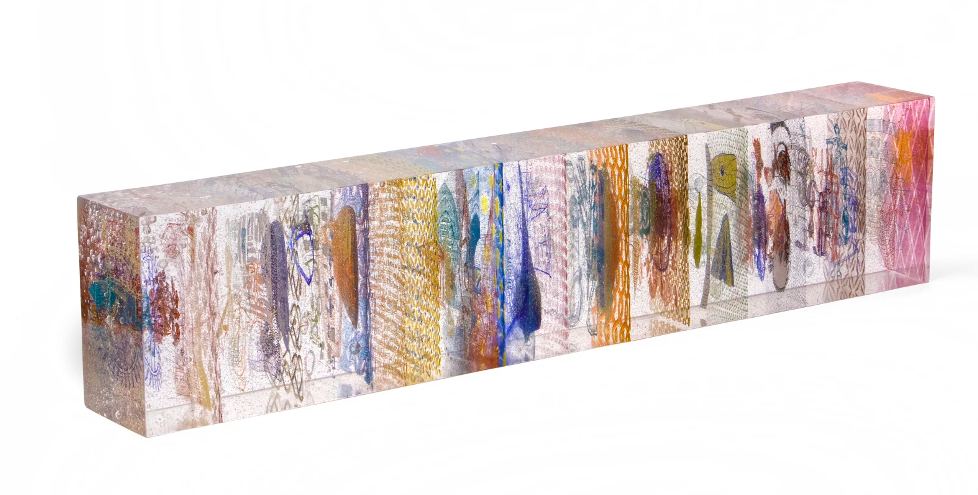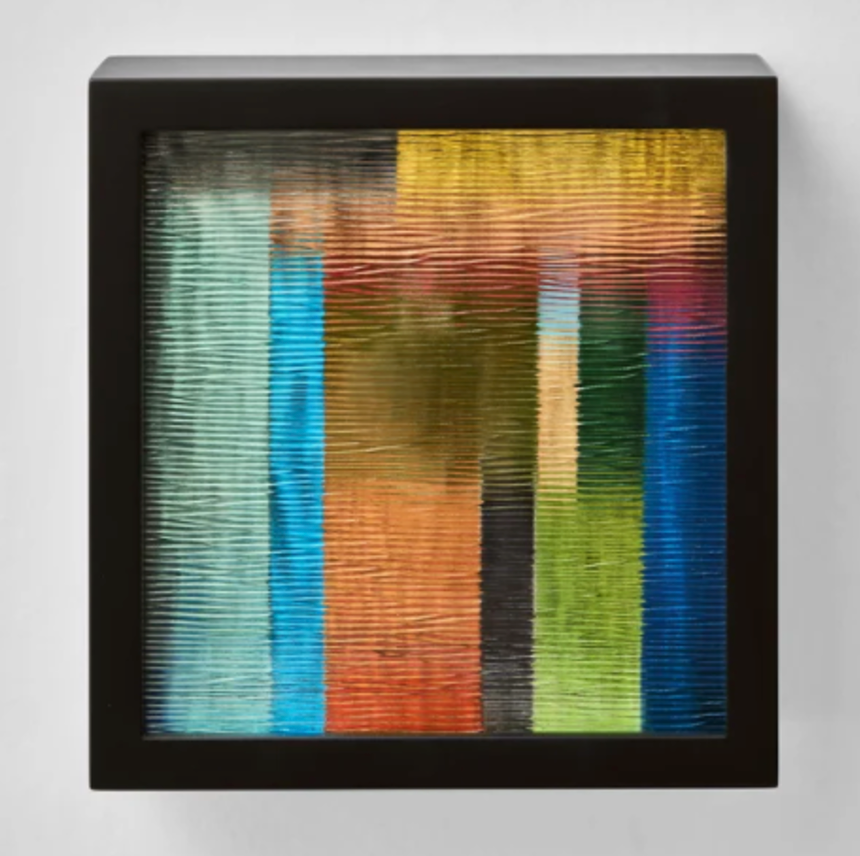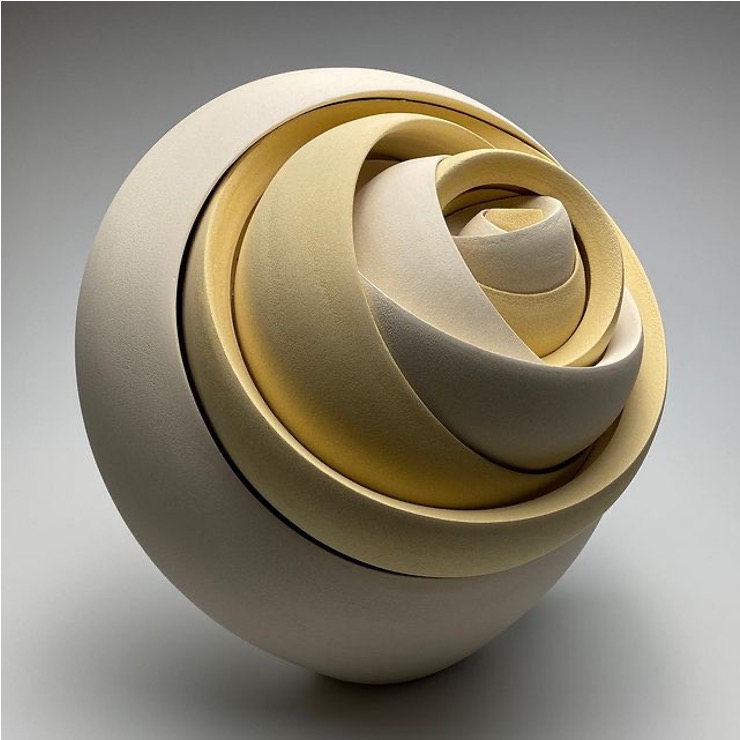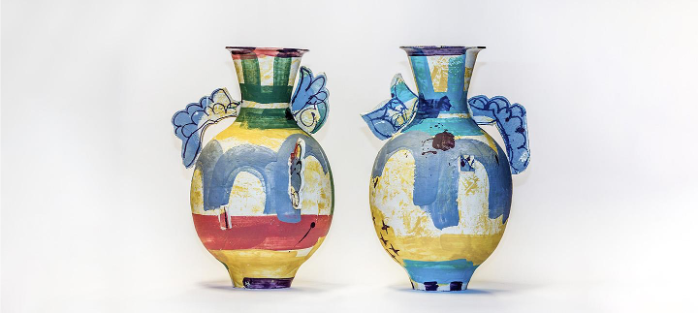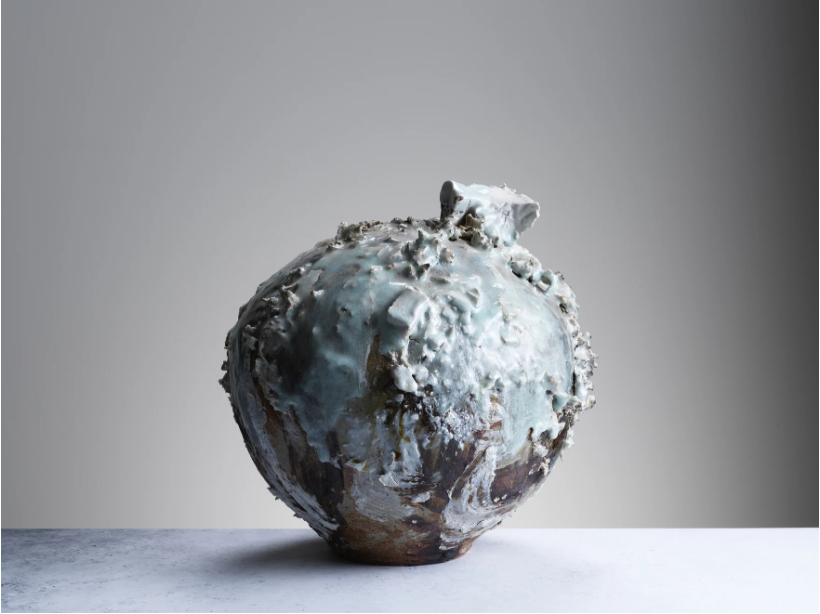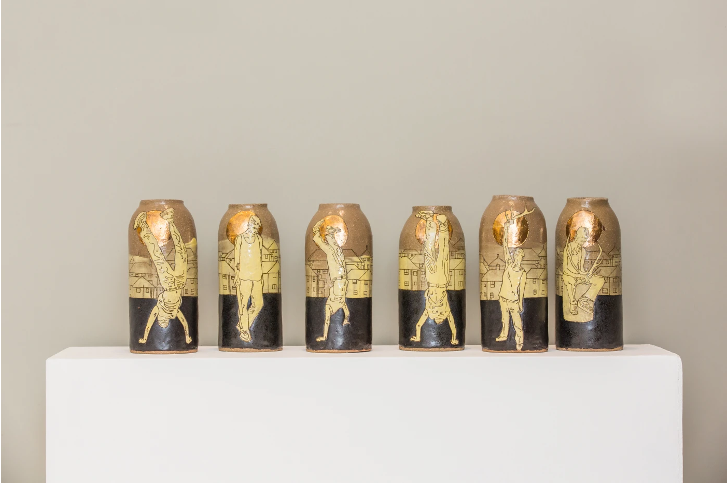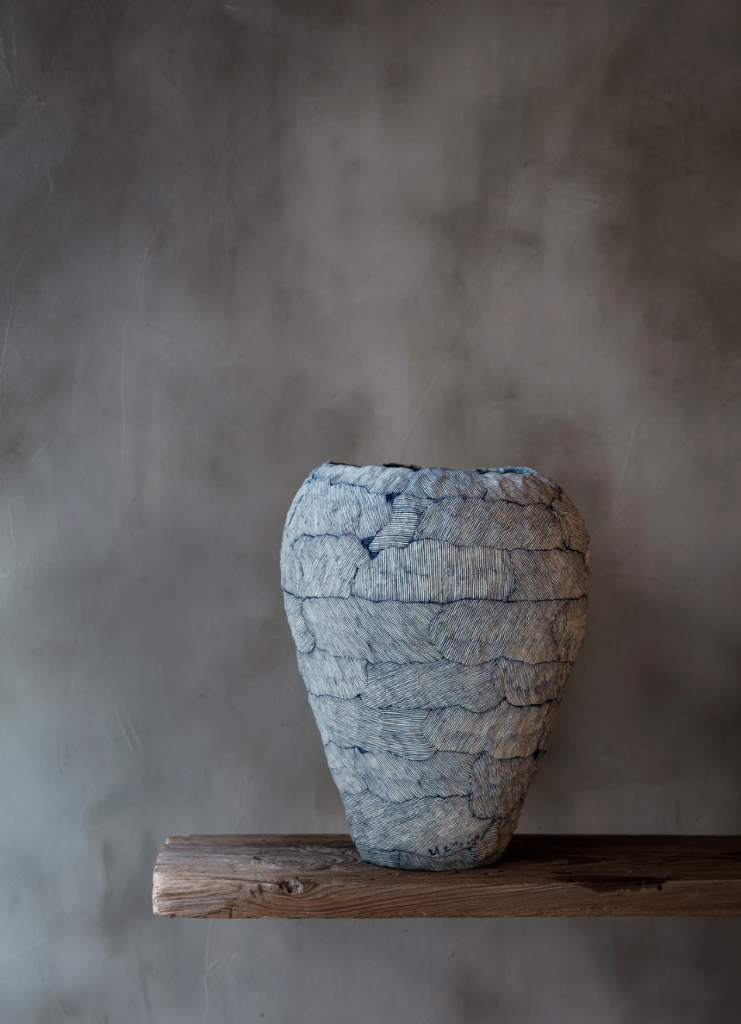 ---
'Time, Suspended'
A Group Show Of Women Artists
4th – 18th December. 2020. 127 Sloane Street, Chelsea, London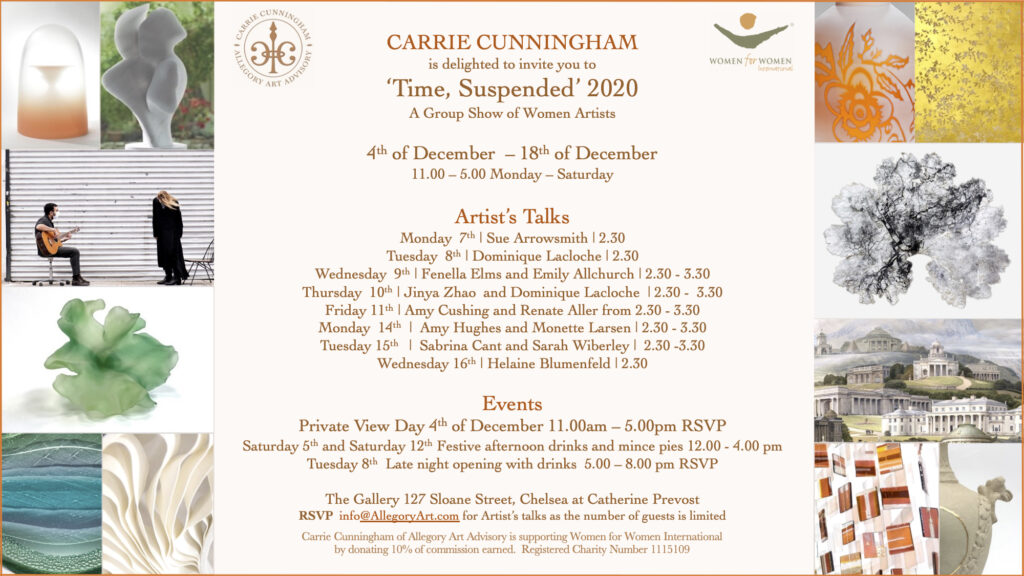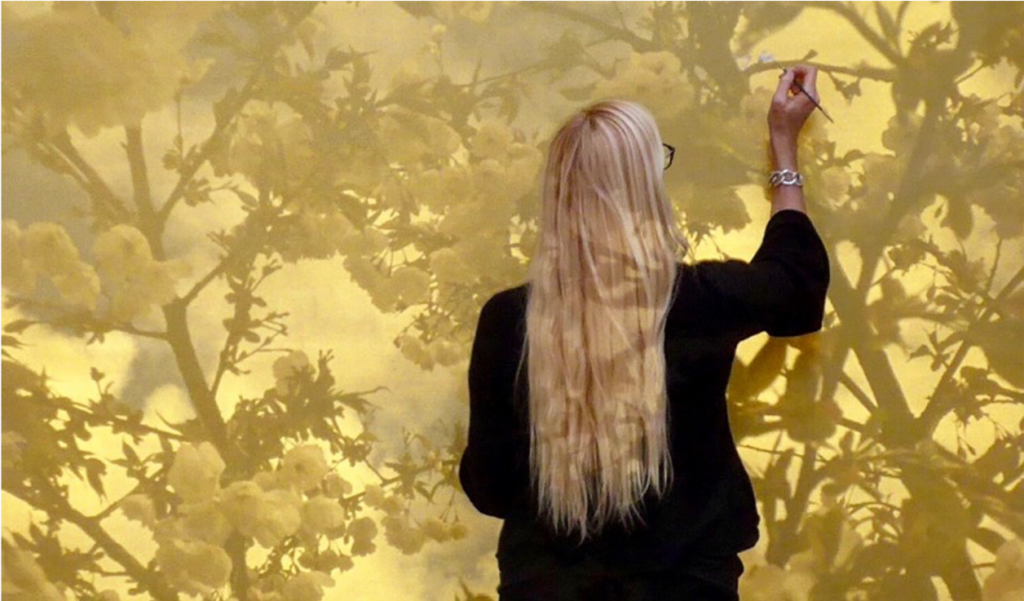 Sue Arrowsmith (b. 1968, Manchester) has lived and worked in London since graduating from Goldsmiths College of Art in 1990.
Arrowsmith takes photographs of flora and foliage which she projects onto the painting's surface, tracing and retracing the natural forms to create elegantly abstracted networks of blossom, branches, trees and leaves. Recently, Arrowsmith has begun to work with metallic gold and bronze inks made by grinding up sticks of Japanese sumi ink. This technique allows the artist a greater fluidity to create the sinuous forms that glisten on the image's surface, evoking the fleeting plays of light in nature.
Since the 1990s, Arrowsmith has exhibited extensively at galleries around Europe including Bloomberg SPACE, The Jerwood Drawing Prize, Purdy Hicks Gallery and Pippy Houldsworth Gallery in London, Galerie Andres Thalmann in Zurich and at Tate Liverpool. In 2010, Arrowsmith undertook a residency at the prestigious Josef and Anni Albers Association in Connecticut, USA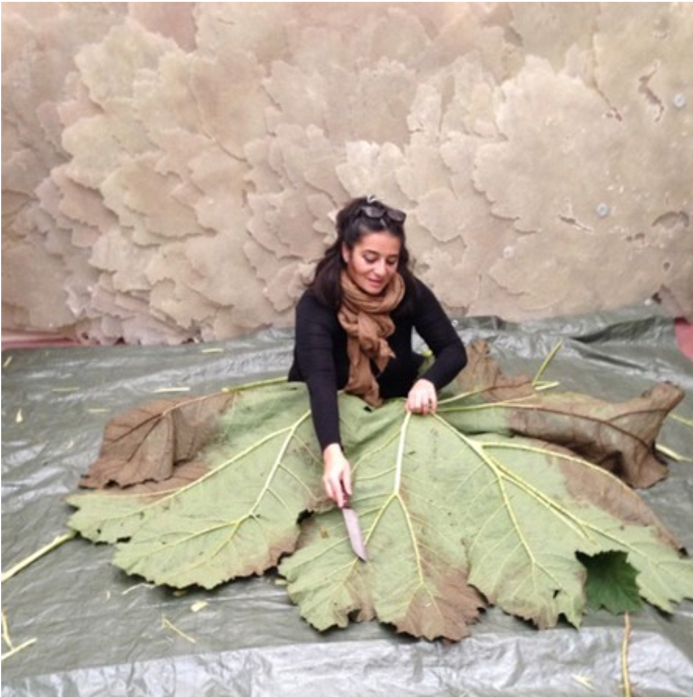 Dominique Lacloche (b. Rome, 1960) is a photographer and sculptor who lives and works between Paris and London. For over 20 years, Lacloche has been making works inspired by the texture and shape of the South American Gunnera Manicata plant which dates from the Jurassic era. The plant is known for its gigantic leaves which measure up to 2-3 metres wide.
Lacloche's practice is exploratory and empirical: her initial photographic experiments around the Gunnera Manicata plant generated an 'image-leaf' which was the impetus for a series of works in sculpture, installation and photography focused around the porosity of the leaf.
Many of Lacloche's works play on the size of the Gunnera Manicata plant, throwing familiar scale into question for the viewer. The artist's cross-disciplinary approach to making work is informed by her study of painting and architecture over many years. She has explored her interest in evolutionary and organic temporal systems through works in film, sound and digital animation.
Lacloche's prodigious artworks are part of several private collections around the world. She is represented by the Tristan Hoare Gallery in London and the Loo and Lou gallery in Paris, France.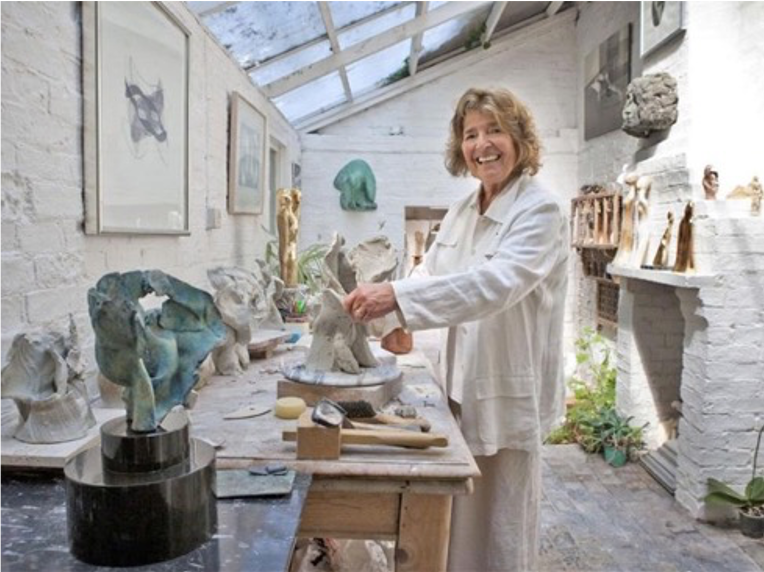 Helaine Blumenfeld OBE (b. 1942, New York City) is an American sculptor who works between Cambridge, UK and Pietrasanta in Tuscany, Italy. Well known for her impressive large-scale public works installed at Canary Wharf and The Lancasters, Blumenfeld's work can also be found in the collections of the Courtauld Gallery, London, The Smithsonian in Washington and Clare College, Cambridge.
In 1964, after gaining a PHD in Political Philosophy at Columbia University, Blumenfeld went to study art in Paris at Académie de la Grande Chaumière with Russian Cubist sculptor Ossip Zadkine. Her first solo show was held at Palais Palffy in Vienna in 1966 in which she exhibited a group of polished bronzes.
During an influential trip to Pietrasanta in Tuscany in 1974, Blumenfeld was inspired to take up stone-carving at Sem Ghelardini's studio where she was initially the only woman working in the marble yard. Marble soon became one of Blumenfeld's principal mediums and later in the 70s, she met British sculptor Henry Moore in Pietrasanta who was collaborating with Ghelardini on two large-scale works.
In 1985, Blumenfeld was part of a joint exhibition with Henry Moore at Alex Rosenburg gallery in New York. The exhibition – A British Dialogue: From Perry Green to Cambridge – included twelve large-scale sculptures by Blumenfeld, made from marble and travertine. As Tom Flynn writes, Blumenfeld's singular style is 'forged from a sculptural grammar that is entirely her own.' Her work is spiritual and tactile, going beyond individual character to reflect on the essence of human form. 'Underlying everything is an insistence on growth and development' (Tom Flynn).
In recent years, there have been several major retrospectives of Blumenfeld's work including at Salisbury Cathedral (2013), Bowman Sculpture, London (2015) and in the Piazza del Duomo in Pietrasanta (2011). A documentary about Blumenfeld's life and work called Hard Beauty was broadcast on Sky Arts in April 2018.
Blumenfeld previously served as Vice President of the Royal British Society of Sculptors (2004-2009) and has been a fellow there since 2000.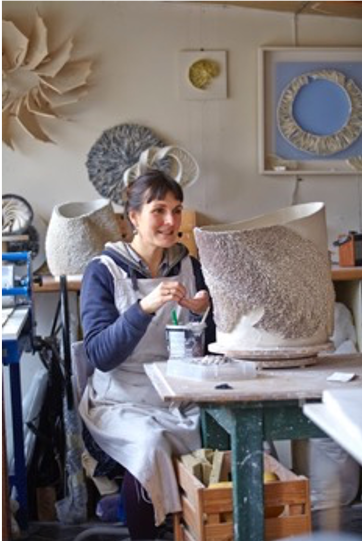 Fenella Elms (b. 1964, Germany) is a Ceramic Artist who works from her studio on the edge of the Wiltshire downs in the British Countryside:
Inspired by a Lucy Rie exhibition during a visit to the V&A Museum, Elms was taught to throw by her school teacher and took part in workshops and classes until she was given a wheel in 2004.
Elms works mainly with Porcelain slip, playing with the limits of the material to test its complex fragility, strength and sharpness. Her hand-built porcelain works are characterised by organic natural rhythms. Elms is accepting of the unexpected in creating ceramics – 'trusting the process' – with her practice informed significantly by her knowledge of psychoanalysis. Casting all the components of the work separately, Elms waits for 'the right stage of softness' to assemble the elements together. For the ceramicist, 'the repetitive nature of bringing together many components creates a rhythm and facilitates an active trance of intention.'
Elms has exhibited internationally, including at The Saatchi Gallery, John Cooper Gallery, The London Design Festival, J. Lohmann Gallery in New York and Asthall Manor in Oxfordshire. Elms has also undertaken numerous international public and private commissions – notably for the Nobel Suite in the Grand Hotel in Oslo.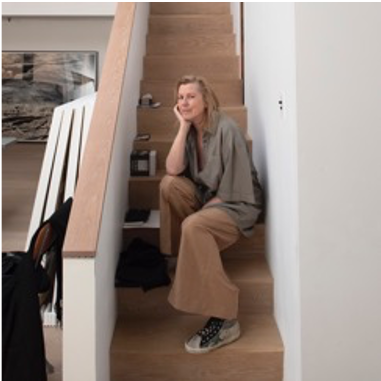 Born in Germany and based in New York, Renate Aller is a visual artist who works primarily within the bounds of portraiture and landscape. She is best known for her sublime and contemplative oceanscapes, desert scenes and mountain views.
For her series 'Oceanscapes – One View', Aller photographed the Atlantic Ocean from the same point at the east end of Long Island over the course of ten years. With the passing of time, the artist captured the changing faces of the ocean in all its moodiness, dreaminess, depth and calm from a single viewpoint. As in 'Oceanscapes – One View', Aller's work is underpinned by an ongoing investigation into 'the interrelationship between Romanticism, memory and landscape' (Terrie Sultan).
For her most recent project 'side walk' series, Aller photographed herself with friends on the streets of New York when the city was at the centre of the pandemic.
"As a reaction to people's lives in solitude ….. For most of April and May I hosted friends and neighbours on our sidewalk or visited them in their street – from a safe 6' distance, with face masks, the camera in self timer mode recording these encounters. These sidewalk visits give us a deep sense of community where community has been forced apart."
Aller's photographs can be found in impressive collections around the world including National Gallery of Art, Washington D.C., Yale University Art Gallery, Connecticut, and Hamburger Kunsthalle in Hamburg, Germany. Her 'side walk' series is soon to become part of the permanent collection of the New York Historical Society Museum.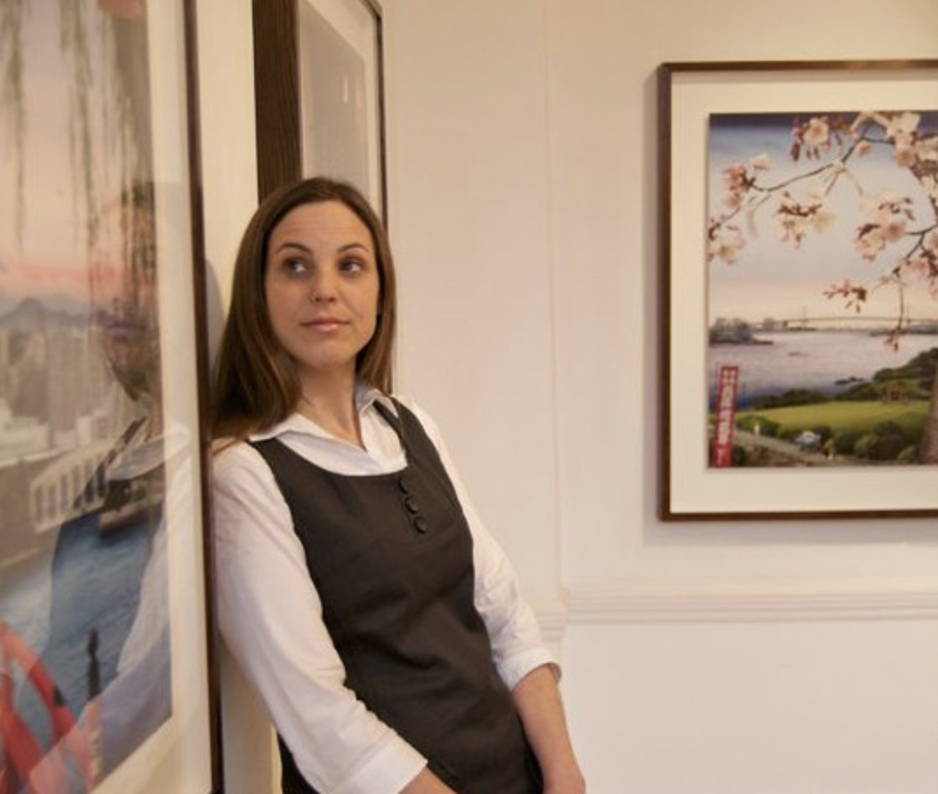 Emily Allchurch (b. 1974, Jersey, Channel Islands)is an artist based between London and Hastings, known for her digital composite images of various architectures. After graduating with a First Class Degree in Fine Art from the Kent Institute of Art and Design in 1996, Allchurch studied for an MA at the Royal College of Art where she began to work with photography.
Allchurch's practice is underpinned by her use of photography, lightboxes and Old Master paintings and prints to construct images with contemporary narratives. Allchurch has reworked compositions by Peter Bruegel the Elder, Giovanni Battista Piranesi, and James Abbott McNeill Whistler, among others. The artist's starting point is an encounter with a city or place, from which she creates a huge image library to develop an impression of the landscape. Allchurch then selects and stitches images from the library together to create seamless new 'fictional' spaces. By using lightboxes to illuminate the finished works, Allchurch gives a theatricality to her new worlds.
'Tokyo Story (2011) recreates ten works from Utagawa Hiroshige's One Hundred Famous Views of Edo (1856-58), transposing his distinctive woodblock prints of 19th century Edo (Tokyo), into the medium of photographic collage, presenting aspects of the 21st century metropolis, and revealing a gentle social narrative for the city today.'
'Grand Tour: In Search of Soane (after Gandy)' (2012), and 'Grand Tour II: Homage to Soane (after Gandy)' (2017), celebrate the legacy of the British neo-classical architect Sir John Soane (1753-1837). Re-presenting Joseph Gandy's paintings of Soane's 'built' and 'unbuilt' architectural projects respectively, Allchurch toured Britain to photograph Soane's surviving buildings, and to compile a neoclassical kit-of-parts, from which she was able to recreate his unrealised projects.
Allchurch recently returned from a trip around Mainland China and Venice, funded by the Arts Council England, for a new body of work which explores Marco Polo's journey along the Silk Road and narratives around mass tourism, globalisation and trade. Please watch this space!
Works by Allchurch are held in private collections worldwide. She has exhibited at The Royal Academy Summer Exhibition, Karin Weber Gallery, Hong Kong, Sir John Soane's Museum and Manchester Art Gallery.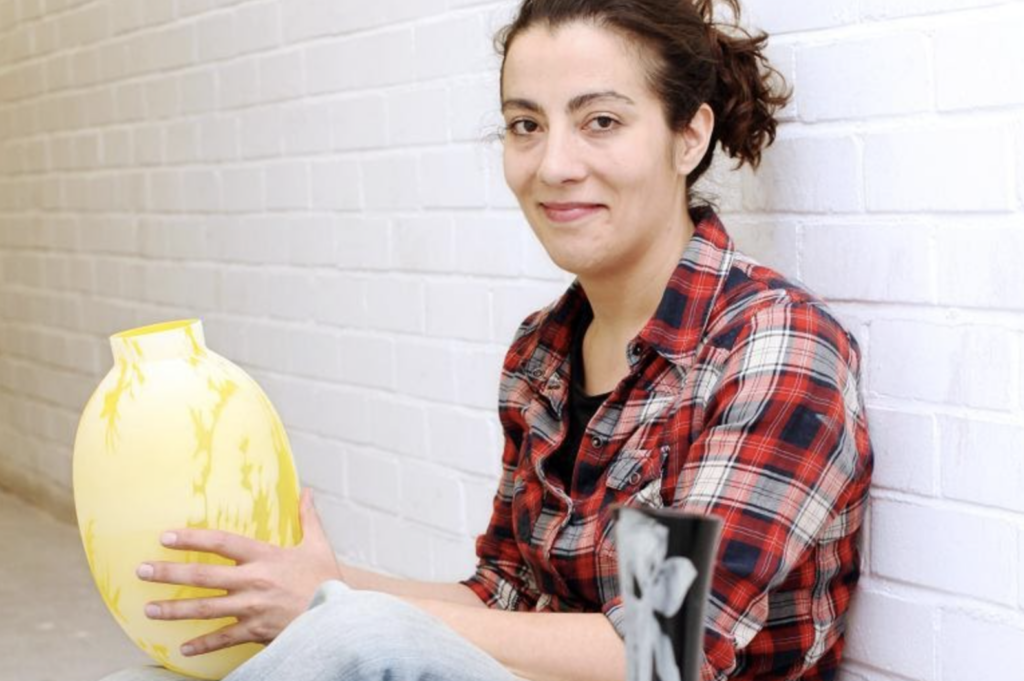 British Glass Artist, Sarah Wiberley, graduated with a First-Class Degree in Three-Dimensional Design: Glass from The Surrey Institute of Art & Design in 2004. It was during her BA that Wiberley developed her practice of incorporating imagery and layering glass of different opacities. After working for several glass studios to hone this craft, Wiberley studied at The Royal College of Art on the MA program in Glass and Ceramics (2009-2011).
In her lively and elegant glasswork, Wiberley combines her interest in ornament and pattern with a passion for colour. As part of her artistic practice, Wiberley has adapted many traditional techniques to suit her decorative style and to balance the fluidity of glass with her imagery.
Wiberley's 'Cameo Series' began with a close study of Victorian cameo glass. Strongly influenced by the historical aspects and traditions that are inherent in glass making, Wiberley references their importance while developing the technical and narrative elements in her own way. The imagery created for these pieces follows the traditional motif of a bird as it escapes its 19th- century scenery and explores new surroundings.
Wiberley has exhibited extensively with galleries including Vessel, Zest and London Glass Blowing Gallery.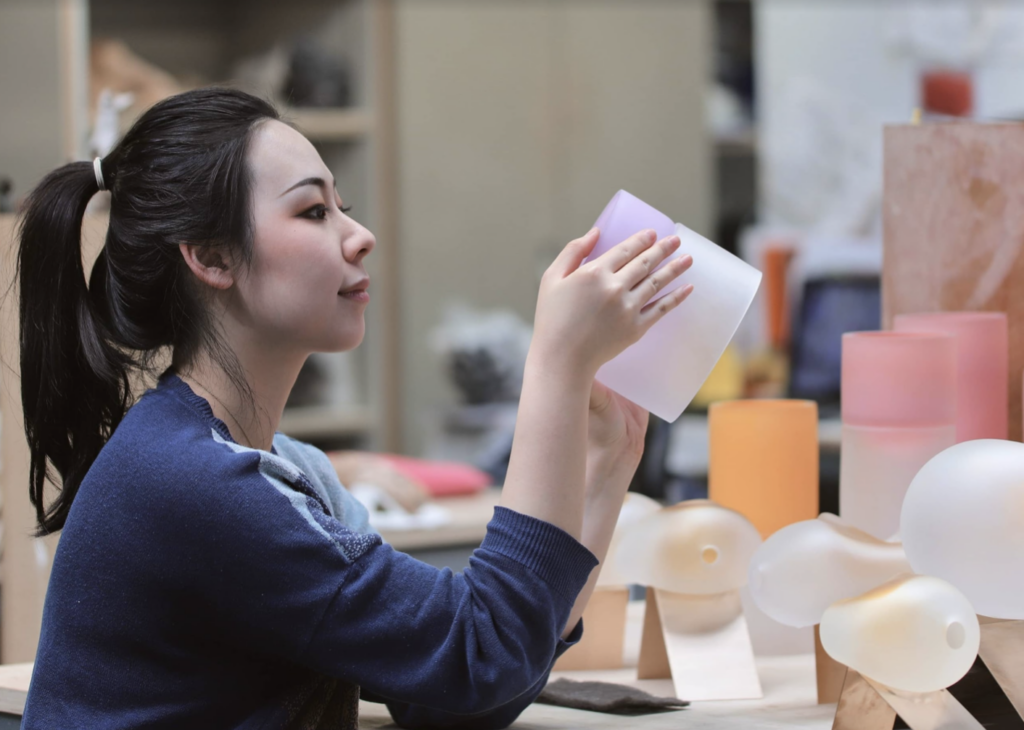 Born and raised in China, Jinya Zhao developed her passion for glass whilst studying her BA at the China Academy of Art (2013-17) and MA at the Royal College of Art (2017-19).

Zhao's work traverses sculpture, installation and design. Throughout her practice, Zhao experiments with how glass can shift perspectives on reality and evoke emotional responses from a beholder. Zhao typically combines layers of opaque and transparent blown glass to create a unique haziness to the interior of her vessels, throwing interior and exterior into question.
The artist's most recent works play with the qualities of glass and metal to explore the relationship between colour, form and structure. In these objects, Zhao combines rounded elements of frosted glass with angular metal forms. Zhao's works have a rare and enigmatic quality to them which has earned her 'Rising Star' status from multiple publications.
In 2019, Zhao was featured in Wallpaper Magazine and shortlisted for multiple accolades including The Signature Art Prize (2019). Her work has been exhibited internationally at venues and galleries including Somerset House, Ting-Ying Gallery, Qinhuangdao Glass Museum and London Glassblowing Gallery.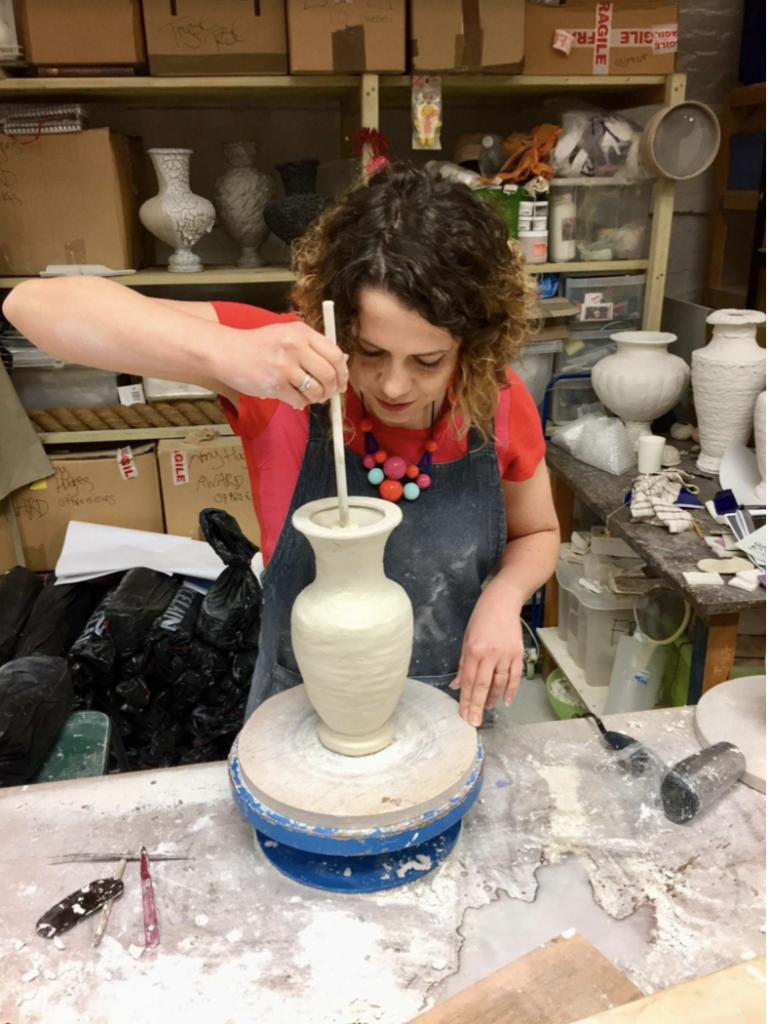 Originally from West Yorkshire, Ceramic Artist Amy Jayne Hughes studied Glass and Ceramics MA at the Royal College of Art in London (2008-2010). In 2015, Hughes became the Victoria & Albert Museum's first Ceramics and Industry
Artist in Residence. That year, Hughes was also selected as one of eleven artists for AWARD at the British Ceramics Biennial, an initiative which presented 'new works exemplifying the energy and vitality of the best of British contemporary ceramics practice.'

Hand-building is a central part of Hughes' making process during which she works with form and texture, studying its relation to decoration. Hughes' work speaks to the Porcelain wares produced at the Royal Sevres Factory in the late 17th and 18th Centuries. She employs a 'modern decadence' in her works to bridge the gap between past and present, finding a new place for these impressive objects in contemporary culture.
In her elegant and stripped-back reflections on the porcelain produced at Sevres, Hughes combines the natural richness of the material's surface with delicately charming embellishments.

Amy Jayne Hughes has exhibited internationally with galleries and museums including Vessel Gallery, Flow Gallery, Galleri Inger Molan (Stockholm, Sweden) and the V&A Museum. Hughes was nominated for the Perrier-Jouët Arts Salon Prize by Barney Hare Duke in 2016 and shortlisted for the Young Masters Maylis Grand Ceramics Prize (2014).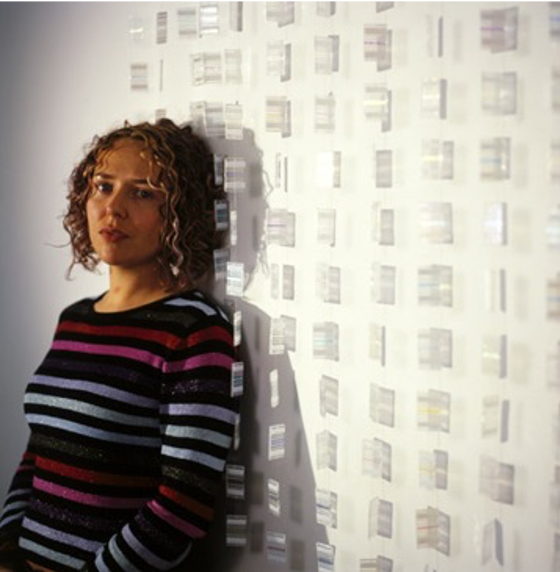 Amy Cushing (b. London, 1971) is a Glass Artist based in London. Cushing graduated from Chelsea College of Art and Design in 1992 where she specialised in Ceramics and Glass. Cushing's rare sensitivity for coloured light transmission and fused glass developed from a young age, informed by her mother's own training in stained glass and vitreous enamels.
The mastery of colour present in Cushing's works comes from many years of experimentation with materials and techniques. Early in her practice, Cushing experimented by fusing glass with clay to achieve more vivid colours than regular ceramics afforded her. The artist eventually turned to glass firing in the kiln as her method of choice, preferring the graphic and luminous qualities the method produces.
Most of Cushing's studio time is spent perfecting the colour sequence and balance in her artworks. She often uses metallic coatings and leaf to give a greater depth to the glass forms. The final pieces are displayed as wall hangings, suspensions and sculptures, depending on the artwork's relationship with the space. Cushing values flawless presentation and uses her own drill and threading techniques to assemble her installations.
To date, Cushing has completed numerous private and public commissions including for Wedgwood, Oliver Peyton Restaurant and The Foreign Office. She has exhibited work at The V&A Museum, Flow Gallery and Vessel in London. Cushing's work has been featured in numerous publications including French Vogue, Wallpaper Magazine and The New York Times.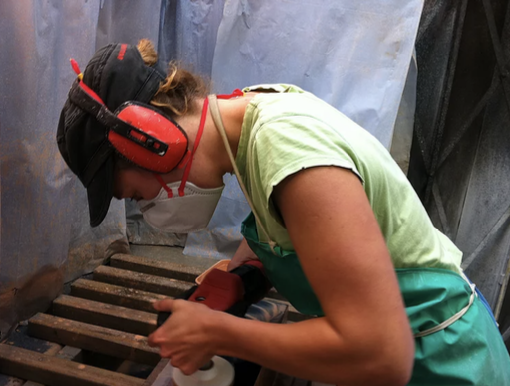 Sabrina Cant is a British artist who has been working with glass for over 15 years. Upon graduating from the Royal College of Art in Glass and Ceramics (MA) in 2004, Cant was awarded the prestigious Bombay Sapphire New Designers Award for her graduate kiln-cast glass work.
Inspired by the natural world and celestial bodies, Cant plays with colour in her glasswork to achieve effects that are harmonious and mysterious. Her skilled use of the kiln-formed glass process requires the use of traditional sculptural techniques such as model making, mould making and the lost wax process.
Cant likens her method to that of oil painting: adding layers to a three-dimensional canvas, casting coloured sections, polishing and then assembling the parts to be cast or fused. It can sometimes take up to five firings for the desired effect to be achieved. In her most recent work, Cant has been exploring gold leaf and lustre.
Cant currently works from her Twickenham studio on Eel Pie Island.
She has exhibited internationally with several galleries, museums and awards which include The National Museum of Scotland, The Coburg Prize for Contemporary Glass, Saatchi Gallery and The British Glass Biennale.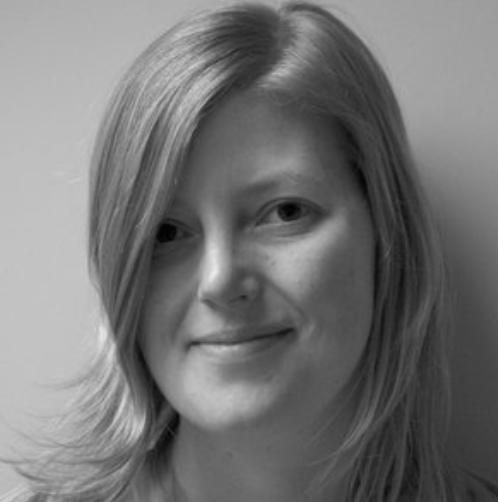 Originally from Denmark, Monette Larsen studied Glass Art at the Royal Danish Academy of Fine Arts (2008) and subsequently the Ceramics and Glass MA at the Royal College of Art in London (2014).
Larsen works predominantly in glass, creating artworks influenced by a fascination for the human perception of beauty in patterns and structures in nature. Larsen's works are often designed for interior spaces where elements of her glasswork interact with light and shadow. Larsen adds layers of organic complexity during the making process to form a response to the natural world, frequently examining molecular structures and geometry through close observation.
Each of Larsen's spectacular glassworks is a reflection of the living world and a reminder of the grandeur of nature.
Larsen was awarded the London Glassblowing Emerging Artist Award in 2017. Her work can be found in numerous impressive private collections around the world and has been exhibited at Vessel Gallery, Saatchi Gallery and the Museum of Modern Glass Art in Copenhagen, Denmark.
The notion of 'Time, Suspended'
Over the past fourteen years Art Consultant, Carrie Cunningham has built an impressive reputation as an Art Advisor for private collectors and blue-chip corporations alike. Spending her time between Florence, London and Hong Kong she has developed a truly global network of artists, working across a variety of different media. Informed by the past, but with a keen eye on the present, she prefers not to be limited to singular artists or mediums, but instead, as she says, 'to curate freely – by brief, place or theme'.
Her latest initiative, 'Time, Suspended', brings together a stunning collection of contemporary female artists, working in glass, ceramics, photography, oil painting, sculpture and mixed media. As a women-led, women-focused show, a portion of each sale from the exhibition will be donated to Women for Women International – a charity which supports women survivors of war.
'Time, Suspended', references the extraordinary moment we have collectively experienced in 2020. While all have been touched by the year's events differently, for some the detachment from the 'everyday' has brought about a free flow of creativity and a radical re-thinking of ourselves and our place in the world – a thesis powerfully captured by all the work on display. Immediate, though highly contemplative, Renate Aller's series 'side walk' – soon to become part of the permanent collection at the New-York Historical Society Museum – has the artist sitting 6 feet apart from her subjects whilst they converse, perform and connect.
With its subtle quality to distort – and disrupt – perspective, glass plays a prominent role in the exhibition. Amy Cushing's colourful suspensions both animate and fascinate; Jinya Zhao's translucent pieces dreamily recast the environment around them; Monette Larson provides striking reminders of nature's grandeur; while the more intimate works of Sarah Wiberley and Sabrina Cant show unrivalled mastery of ornament and pattern, finish and coloration respectively.
Working with paint, Sue Arrowsmith's fleetingly organic brushstrokes bring a disarming beauty. Ceramicists Amy Hughes's playful charm – lyrical adornments – possess perfect poise, and Fenella Elms plays radically with form and texture, adorning her medium with an unexpected luminosity.
The show also includes elegantly tactile and emotional sculptures by the renowned Helaine Blumenfeld, a former Vice President of The Royal British Society of Sculptors, and works by Emily Allchurch, who creates windows into new worlds by reimagining Old Master paintings using digital collage and theatrical lightboxes. And finally, Dominique Lacloche's monumental, yet poetic, Gunnera leaves provide eternal wonder.
Although the artworks are refreshingly varied in style and media, the curation as a whole is underpinned by Cunningham's distinctive, sensitive eye for beautiful works of contemporary art.
This isn't one to miss!
Visitors can book time slots for Preview Day on Thursday 29th of October by emailing [email protected]. From Friday 30th of October onwards, 'Time, Suspended' will be open weekdays between 11am-5pm. During the show, Cunningham will also host a series of artists' talks and evening viewings. Please email Allegory Art to express your interest in attending the events.
'Time, Suspended' is a Covid-safe space with ample ventilation, social distancing and hygiene measures in place. Please remember your mask.
---